There's no denying that society has its own definition of beauty. We see it in the media, with airbrushed celebrities and unrealistic Photoshopped images, telling us what we should look like. And while some people are able to shrug it off and not let it affect them, for others, these standards can have a serious impact on their mental health.

Body dysmorphic disorder is a condition where someone becomes fixated on one or more perceived flaws in their appearance. They may obsess over things like acne, wrinkles, or body weight, even though there may be nothing actually wrong with them. As a result of this preoccupation, they may start to avoid social situations and withdraw from activities they once enjoyed.

In severe cases, they may even resort to dangerous measures like surgery or crash dieting in an attempt to "fix" their appearance. Anxiety and depression are also common among those who feel they don't measure up to society's ideals of beauty. They may feel unworthy or unlovable because they don't look a certain way.

This can lead to low self-esteem and negative body image, which can be very difficult to overcome. If you're struggling with your own self-image due to societal pressure, know that you're not alone. Talk to your doctor or a mental health professional if you're finding it hard to cope.
Beauty standards are often unrealistic and unobtainable, which can lead to feelings of inadequacy and low self-esteem. Research has shown that these feelings can contribute to depression, anxiety, and other mental health issues. It's important to remember that everyone is beautiful in their own way.

You don't have to look like a supermodel to be happy and healthy. Embrace your unique features and focus on loving yourself just the way you are.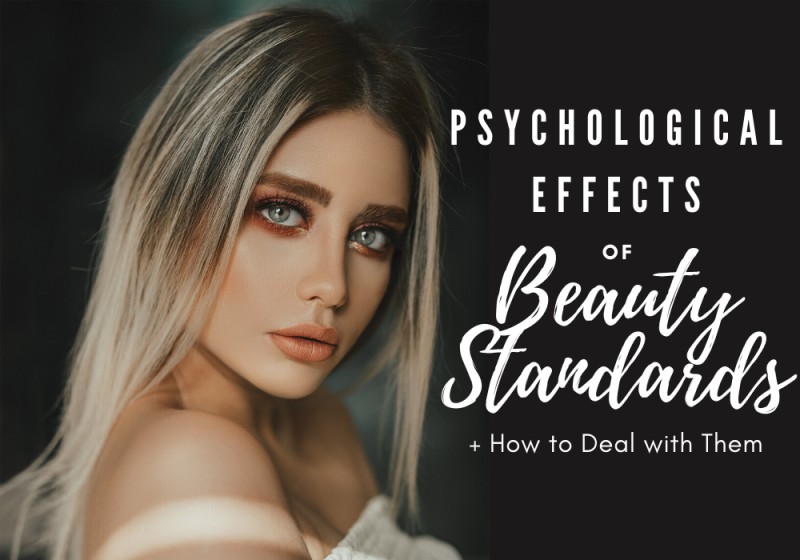 Credit: thebeautyholic.com
How Beauty Standards Affect Women'S Mental Health?
It's no secret that the pressure to meet society's beauty standards can take a toll on women's mental health. A new study has found that when it comes to body image, women are more likely than men to suffer from depression, anxiety and eating disorders. The study, which was published in the Journal of Abnormal Psychology, surveyed nearly 2,000 adults about their body image and mental health.

The participants were asked how often they thought about their weight or appearance, whether they felt unhappy with their looks and how much their appearance affected their daily activities. The results showed that women were significantly more likely than men to experience all three types of mental health problems associated with body image. In fact, nearly one in five women reported suffering from depression or anxiety because of their looks, compared to just one in eight men.

And while only 3% of men said they had an eating disorder, a full 12% of women admitted to having disordered eating habits. So why are women so much more prone to negative body image? There are a number of possible explanations.

First and foremost is the fact that we live in a culture that places an incredibly high value on physical attractiveness and youthfulness. Women are bombarded with images of impossibly perfect celebrities and models every day, which can lead them to feel inadequate by comparison. And as we get older, societal messages tell us that we're not supposed to age gracefully – instead we're supposed to fight tooth and nail against wrinkles, grey hair and any other sign that our looks might be slipping.

This puts even more pressure on women to maintain an unrealistic standard of beauty. In addition, research has shown that media images tend to be highly airbrushed and photoshopped these days, further skewing our perceptions of what's normal or attractive. With social media being such a big part of our lives now too, it's easier than ever before for people to compare themselves against others – which can again lead to feelings of insecurity or inadequacy if you don't measure up.
How are People Affected by Beauty Standards?
People are affected by beauty standards in a number of ways. For instance, people may feel pressure to conform to certain standards in order to be considered attractive. This can lead to a preoccupation with one's appearance and a focus on achieving an "ideal" look.

This can result in feelings of inadequacy or insecurity if someone feels they do not measure up to the standards. Additionally, beauty standards can create unrealistic expectations that can be difficult to live up to. Beauty standards also affect how people view themselves and others.

They can cause people to devalue those who do not meet the ideals and place too much importance on physical appearance. This can lead to shallower relationships and judgmental attitudes towards others. It is important to remember that everyone is unique and beautiful in their own way, regardless of whether or not they conform to societal norms.
How Does Beauty Standards Affect Self-Esteem?
Beauty standards have a profound effect on self-esteem. For many people, the pursuit of physical perfection is an obsession. The pressure to conform to unrealistic and unattainable standards of beauty can lead to feelings of inadequacy and low self-worth.

The media is one of the biggest culprits in perpetuating damaging beauty ideals. Airbrushed models and Photoshopped images create an artificial standard of perfection that is unattainable for most people. This can lead to feelings of frustration, jealousy and inadequacy.

Comparing oneself to others is a dangerous game, but it's one that many people can't help but play. Social media sites like Facebook and Instagram are full of pictures of "perfect" lives and perfect bodies. It's easy to get caught up in comparing yourself to these false images and forgetting that they're not real.

The impact of beauty standards on self-esteem is evident in eating disorders such as anorexia nervosa and bulimia nervosa. These disorders are often rooted in a deep-seated belief that one must be thin to be beautiful and happy. This belief can lead to severe malnutrition and even death in extreme cases.

It's important to remember that everyone is unique and beautiful in their own way. You don't have to conform to someone else's idea of perfection to be happy with yourself. Embrace your imperfections and learn to love yourself just the way you are!
How Does Beauty Standards Affect People And Society?
It is no secret that beauty standards have a significant impact on people and society. The media is filled with images of impossibly perfect celebrities and models, which can create a sense that we are not good enough as we are. This can lead to low self-esteem, anxiety, depression, and even eating disorders.

Additionally, the pressure to meet these unrealistic standards can be very costly. For example, people may spend hours trying to achieve the "perfect" appearance through dieting, exercising, and cosmetics. In some cases, they may even resort to dangerous measures such as surgery or extreme dieting.

All of this time and money spent chasing an unattainable goal could be better used elsewhere. Finally, these unrealistic standards often promote unhealthy behaviours such as tanning, smoking, and cosmetic surgery; which can have serious consequences for our health. It is clear that beauty standards have a negative effect on individuals and society as a whole.
Can body image problems affect our mental health? | BBC Tomorrow's World
How Does Unrealistic Beauty Standards Affect Mental Health
The standards of beauty are always changing, and it can be hard to keep up. With the help of social media, we are constantly bombarded with images of "perfect" bodies and faces. It's no wonder that so many people struggle with body image issues and poor self-esteem.

Unrealistic beauty standards can have a serious impact on mental health. Studies have shown that exposure to idealized images of women can lead to anxiety, depression, and eating disorders. Women who compare themselves to these unrealistic standards are more likely to suffer from negative body image and low self-esteem.

It's important to remember that everyone is different and there is no one "perfect" standard of beauty. We should all strive to be the best version of ourselves, both physically and mentally. And if you're struggling with your body image, please seek professional help.

You deserve to feel happy and confident in your own skin!
Conclusion
Beauty standards have a significant impact on mental health. Studies have shown that women who don't meet the cultural ideal of beauty are more likely to suffer from depression, body dysmorphic disorder, and eating disorders. The pressure to conform to unrealistic standards of beauty can also lead to low self-esteem, anxiety, and social withdrawal.

It's important to remember that everyone is beautiful in their own way and that there is no one "perfect" standard of beauty.

{ "@context": "https://schema.org", "@type": "FAQPage", "mainEntity":[{"@type": "Question", "name": "How Beauty Standards Affect Women'S Mental Health? ", "acceptedAnswer": { "@type": "Answer", "text": " It's no secret that the pressure to meet society's beauty standards can take a toll on women's mental health. A new study has found that when it comes to body image, women are more likely than men to suffer from depression, anxiety and eating disorders. The study, which was published in the Journal of Abnormal Psychology, surveyed nearly 2,000 adults about their body image and mental health. The participants were asked how often they thought about their weight or appearance, whether they felt unhappy with their looks and how much their appearance affected their daily activities. The results showed that women were significantly more likely than men to experience all three types of mental health problems associated with body image. In fact, nearly one in five women reported suffering from depression or anxiety because of their looks, compared to just one in eight men. And while only 3% of men said they had an eating disorder, a full 12% of women admitted to having disordered eating habits. So why are women so much more prone to negative body image? There are a number of possible explanations. First and foremost is the fact that we live in a culture that places an incredibly high value on physical attractiveness and youthfulness. Women are bombarded with images of impossibly perfect celebrities and models every day, which can lead them to feel inadequate by comparison. And as we get older, societal messages tell us that we're not supposed to age gracefully – instead we're supposed to fight tooth and nail against wrinkles, grey hair and any other sign that our looks might be slipping. This puts even more pressure on women to maintain an unrealistic standard of beauty. In addition, research has shown that media images tend to be highly airbrushed and photoshopped these days, further skewing our perceptions of what's normal or attractive. With social media being such a big part of our lives now too, it's easier than ever before for people to compare themselves against others – which can again lead to feelings of insecurity or inadequacy if you don't measure up. And let's not forget the impact that advertising has on our perceptions of beauty – advertisers know exactly which buttons to push in order " } } ,{"@type": "Question", "name": "How are People Affected by Beauty Standards? ", "acceptedAnswer": { "@type": "Answer", "text": " People are affected by beauty standards in a number of ways. For instance, people may feel pressure to conform to certain standards in order to be considered attractive. This can lead to a preoccupation with one's appearance and a focus on achieving an ideal look. This can result in feelings of inadequacy or insecurity if someone feels they do not measure up to the standards. Additionally, beauty standards can create unrealistic expectations that can be difficult to live up to. Beauty standards also affect how people view themselves and others. They can cause people to devalue those who do not meet the ideals and place too much importance on physical appearance. This can lead to shallower relationships and judgmental attitudes towards others. It is important to remember that everyone is unique and beautiful in their own way, regardless of whether or not they conform to societal norms." } } ,{"@type": "Question", "name": "How Does Beauty Standards Affect Self-Esteem? ", "acceptedAnswer": { "@type": "Answer", "text": " Beauty standards have a profound effect on self-esteem. For many people, the pursuit of physical perfection is an obsession. The pressure to conform to unrealistic and unattainable standards of beauty can lead to feelings of inadequacy and low self-worth. The media is one of the biggest culprits in perpetuating damaging beauty ideals. Airbrushed models and Photoshopped images create an artificial standard of perfection that is unattainable for most people. This can lead to feelings of frustration, jealousy and inadequacy. Comparing oneself to others is a dangerous game, but it's one that many people can't help but play. Social media sites like Facebook and Instagram are full of pictures of perfect lives and perfect bodies. It's easy to get caught up in comparing yourself to these false images and forgetting that they're not real. The impact of beauty standards on self-esteem is evident in eating disorders such as anorexia nervosa and bulimia nervosa. These disorders are often rooted in a deep-seated belief that one must be thin to be beautiful and happy. This belief can lead to severe malnutrition and even death in extreme cases. It's important to remember that everyone is unique and beautiful in their own way. You don't have to conform to someone else's idea of perfection to be happy with yourself. Embrace your imperfections and learn to love yourself just the way you are!" } } ,{"@type": "Question", "name": "How Does Beauty Standards Affect People And Society? ", "acceptedAnswer": { "@type": "Answer", "text": " It is no secret that beauty standards have a significant impact on people and society. The media is filled with images of impossibly perfect celebrities and models, which can create a sense that we are not good enough as we are. This can lead to low self-esteem, anxiety, depression, and even eating disorders. Additionally, the pressure to meet these unrealistic standards can be very costly. For example, people may spend hours trying to achieve the "perfect" appearance through dieting, exercising, and cosmetics. In some cases, they may even resort to dangerous measures such as surgery or extreme dieting. All of this time and money spent chasing an unattainable goal could be better used elsewhere. Finally, these unrealistic standards often promote unhealthy behaviours such as tanning, smoking, and cosmetic surgery; which can have serious consequences for our health. It is clear that beauty standards have a negative effect on individuals and society as a whole." } } ] }