There's nothing like a fresh face of makeup, but sometimes getting that perfect base can be tricky. If you're wondering how to apply foundation and concealer with a beauty blender, never fear! This simple guide will have you looking flawless in no time.

First, start by wetting your beauty blender and then wringing it out until it's just damp. Next, apply your foundation to the back of your hand or directly onto your face. Then, pick up the product with your damp beauty blender and start stippling it onto your skin.

Be sure to blend in any areas where the foundation looks patchy or uneven. Finally, use the same method to apply concealer under your eyes and on any problem areas. Voila!

You're now ready for the rest of your makeup routine.
HOW TO USE A BEAUTY BLENDER
Pour your foundation into the lid of the foundation bottle, or into a small bowl
Dip the rounded end of the beauty blender into the foundation, and then bounce the beauty blender on your skin to blend the foundation in
Apply concealer to problem areas with a small brush, and then use the beauty blender to blend it in
Set your makeup with powder, and you're done!
How to Apply Foundation With a Beauty Blender
Foundation is one of the most important products in your makeup routine. It evens out your skin tone, covers blemishes, and gives your face a nice base to work with. But applying foundation evenly can be tricky, especially if you're using a brush.

That's where the beauty blender comes in. A beauty blender is a small, egg-shaped sponge that helps you apply foundation evenly and smoothly. Here's how to use it:

1. Wet the sponge with water and squeeze out any excess. This will help the foundation go on more smoothly. 2. Dot foundation onto your face in various places: forehead, cheeks, nose, chin.

3. Using the damp sponge, start blending the foundation into your skin in circular motions until it's all blended in nicely. You can also use tapping motions to get full coverage without any streaks or lines. 4. If you need more coverage in certain areas, just add more foundation to those spots and blend again until everything is evened out!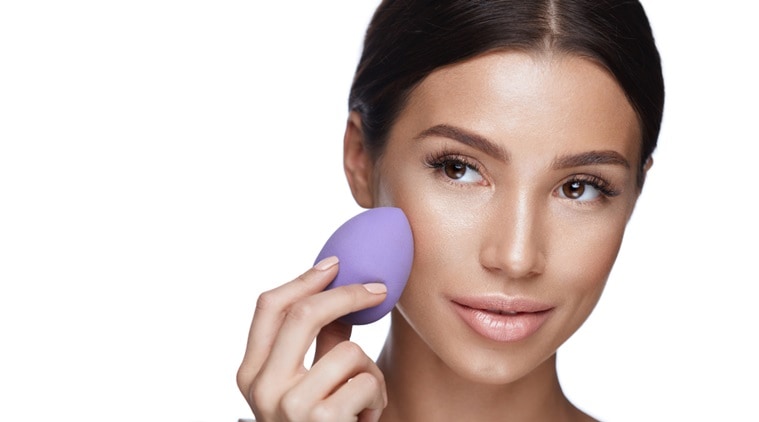 Credit: indianexpress.com
Can You Use the Same Beautyblender for Foundation And Concealer?
The answer is yes, you can use the same Beautyblender for foundation and concealer. However, you may need to slightly adjust the amount of product you use depending on the coverage you're looking for. If you're using a full-coverage foundation, you'll likely need to use less concealer than if you're using a light-coverage foundation.

The Beautyblender can help create a seamless finish with either type of product.
Do You Wet a Beautyblender before Applying Concealer?
When it comes to applying concealer, there are a few different schools of thought. Some people prefer to apply their concealer dry, while others find that dampening their Beautyblender first helps to create a more seamless finish. So, which method is best?

There's no right or wrong answer when it comes to wetting or not wetting your Beautyblender before applying concealer. It ultimately comes down to personal preference and what works best for you. That said, there are a few things to keep in mind if you're undecided about which method to use.

If you choose to apply your concealer dry, you'll likely find that it provides more coverage and is easier to blend out. However, dry concealer can also settle into fine lines and creases more easily than its damp counterpart. On the other hand, dampening your Beautyblender before using it to apply concealer can help the product go on more sheerly and evenly.

This is because the moisture helps to dilute the pigment of the concealer slightly, making it easier to build up coverage gradually without overdoing it. Additionally, blending dampened concealer into the skin can help minimize the appearance of any imperfections (such as blemishes or dark under-eye circles) without causing them to look cakey or overdone.
What is the Best Way to Apply Foundation With a Beautyblender?
When it comes to applying foundation, there are a lot of different ways to do it. Some people prefer using their fingers, while others like using a brush or sponge. However, if you want to get a really smooth and flawless finish, then the best way to apply foundation is with a Beautyblender.

A Beautyblender is a small, egg-shaped sponge that can be used wet or dry. When dampened, it expands and becomes softer, making it perfect for blending foundation into the skin. The pointed end of the Beautyblender is great for getting into hard-to-reach areas like around the nose and under the eyes, while the rounded end can be used for covering larger areas of the face.

To use a Beautyblender, simply dampen it with water (or your preferred setting spray), squeeze out any excess liquid, and then bounce it across your face in circular motions until your foundation is evenly blended. You can also use the Beautyblender to apply concealer and powder products – just make sure you clean it between each use!
Can You Blend Foundation With a Beautyblender?
Foundations and Beautyblenders are two of the most essential tools in any makeup artist's kit. But can you use them together? The answer is yes!

In fact, blending foundation with a Beautyblender is one of the best ways to get a flawless, airbrushed finish. Here's how to do it: 1. Wet your Beautyblender and squeeze out any excess water.

2. Place a small amount of foundation on the back of your hand or on a palette. 3. Dip your Beautyblender into the foundation and then bounce it across your face, starting from the center and working outwards. 4. Use light pressure as you blend the foundation into your skin for a natural-looking finish.
Conclusion
If you want your foundation and concealer to look flawlessly blended, then you need to use a beauty blender! Dampen the sponge with water and then squeeze out the excess. Next, apply your foundation to the back of your hand and then dab the beauty blender into it.

Tap the sponge onto your skin in areas that need coverage and then blend outward. To apply concealer, use a smaller amount than you would for foundation and focus on problem areas. Blend well and voila!

{ "@context": "https://schema.org", "@type": "FAQPage", "mainEntity":[{"@type": "Question", "name": "Can You Use the Same Beautyblender for Foundation And Concealer? ", "acceptedAnswer": { "@type": "Answer", "text": " The answer is yes, you can use the same Beautyblender for foundation and concealer. However, you may need to slightly adjust the amount of product you use depending on the coverage you're looking for. If you're using a full-coverage foundation, you'll likely need to use less concealer than if you're using a light-coverage foundation. The Beautyblender can help create a seamless finish with either type of product." } } ,{"@type": "Question", "name": "Do You Wet a Beautyblender before Applying Concealer? ", "acceptedAnswer": { "@type": "Answer", "text": " When it comes to applying concealer, there are a few different schools of thought. Some people prefer to apply their concealer dry, while others find that dampening their Beautyblender first helps to create a more seamless finish. So, which method is best? There's no right or wrong answer when it comes to wetting or not wetting your Beautyblender before applying concealer. It ultimately comes down to personal preference and what works best for you. That said, there are a few things to keep in mind if you're undecided about which method to use. If you choose to apply your concealer dry, you'll likely find that it provides more coverage and is easier to blend out. However, dry concealer can also settle into fine lines and creases more easily than its damp counterpart. On the other hand, dampening your Beautyblender before using it to apply concealer can help the product go on more sheerly and evenly. This is because the moisture helps to dilute the pigment of the concealer slightly, making it easier to build up coverage gradually without overdoing it. Additionally, blending dampened concealer into the skin can help minimize the appearance of any imperfections (such as blemishes or dark under-eye circles) without causing them to look cakey or overdone." } } ,{"@type": "Question", "name": "What is the Best Way to Apply Foundation With a Beautyblender? ", "acceptedAnswer": { "@type": "Answer", "text": " When it comes to applying foundation, there are a lot of different ways to do it. Some people prefer using their fingers, while others like using a brush or sponge. However, if you want to get a really smooth and flawless finish, then the best way to apply foundation is with a Beautyblender. A Beautyblender is a small, egg-shaped sponge that can be used wet or dry. When dampened, it expands and becomes softer, making it perfect for blending foundation into the skin. The pointed end of the Beautyblender is great for getting into hard-to-reach areas like around the nose and under the eyes, while the rounded end can be used for covering larger areas of the face. To use a Beautyblender, simply dampen it with water (or your preferred setting spray), squeeze out any excess liquid, and then bounce it across your face in circular motions until your foundation is evenly blended. You can also use the Beautyblender to apply concealer and powder products – just make sure you clean it between each use!" } } ,{"@type": "Question", "name": "Can You Blend Foundation With a Beautyblender? ", "acceptedAnswer": { "@type": "Answer", "text": " Foundations and Beautyblenders are two of the most essential tools in any makeup artist's kit. But can you use them together? The answer is yes! In fact, blending foundation with a Beautyblender is one of the best ways to get a flawless, airbrushed finish. Here's how to do it: 1. Wet your Beautyblender and squeeze out any excess water. 2. Place a small amount of foundation on the back of your hand or on a palette. 3. Dip your Beautyblender into the foundation and then bounce it across your face, starting from the center and working outwards. 4. Use light pressure as you blend the foundation into your skin for a natural-looking finish." } } ] }